Blue do for Lilywhites as they crash out of Cup
14th August 2014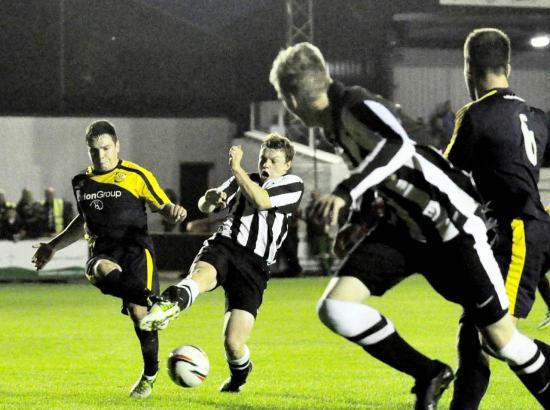 North of Scotland Cup
Reporter Noel Donaldson
Wick Academy 2 Clachnacuddin 0

WICK got off to a perfect start through a Gary Weir strike in the opening minutes but it didn't deter the visitors who demonstrated they wanted that semi-final North of Scotland Cup slot just as much.

The two teams served up an entertaining 90 minutes, which, unlike the earlier league encounter had no nail-biting finish as Academy went on to consolidate their lead.

A Macadie cross gave Weir a golden chance of grabbing an early advantage and he made no mistake from close in.
Fast-breaking Clach were always dangerous, but a combination of poor finishing, and sound defending by their opponents, meant they were never able to put anything into the "ingin' bag".

The visitors pressed hard in vain, in the closing stages of the first half and kept on working, despite losing a second goal, slid home by Sam Mackay, minutes from the break.

Halkirk United suffered an excruciating 8-0 quarter-final drubbing at the hands of league champions Brora Rangers who will meet Academy in a semi-final confrontation at Harmsworth Park, early next month, which, apart from having a derby spice, should help compensate Wick for that postponed New Year League tie, with a bumper crowd expected.
Related Sports
Related Articles
Wick Academy 2 Formartine United 2 ACADEMY shook off their recent poor form to grab a well-earned share of the points on home turf against one of the Highland League's strongest sides, in the final of the season at Harmsworth Park, on Saturday. Quick- moving United monopolised the early play and were rewarded with a lucky Scott Ferries strike in the 10th minute which crept over the line after a deflection.
Wick Academy 1 Rothes 1 Reporter Noel Donaldson. James Pickles saved Academy's blushes after a game that they will want to forget.
Wick Academy 2. Cove Rangers 3.
Wick Academy 0 Turriff United 1 Reporter Noel Donaldson. IT was one of those days....no matter how hard you try, you don't get the breaks.
Wick Academy 2 Forres Mechanics 2 Reporter Noel Donaldson THIS was a day more suited to those with webbed feet rather than footballers but both sides defied the elements and gave their fans their money's-worth. The Scorries, building on their return to form, but without key personnel, Alan Farquhar and Davie Allan, drew first blood early in the uncompromising wind and rain...
Wick Academy 1 Nairn County 5 Reporter Noel Donaldson. WICK Academy's rich vein of success ran out on Saturday but few fans would have anticipated the result being a rout.
Wick Academy 3 Clach 1 Reporter Noel Donaldson BOTH sides were clearly up for it in the first half but neither team was able to beat their respective defences and keepers who were very much on their game. While it made for an entertaining first half, supporters could have been forgiven for starting to fear things might play out for a goal-less draw..
Reporter Noel Donaldson Wick Academy 3 Keith 1 A SECOND, consecutive match hat-trick from Sam Mackay secured all three points for the Scorries and was a further step forward in recovering their home form. Keith were no pushovers, however, and stuck to their task right to the final whistle.
Wick Academy 0 Fraserburgh 1 Reporter Noel Donaldson ACADEMY supporters' hopes were doubtless high that the miracle mid-week comeback by their team against Forres Mechanics, would be the catalyst to getting to grips with their home results jinx. In the event, the encounter with a well-marshalled Broch outfit was something of an anti-climax, Academy unable to replicate anything close to that scintillating 5-3 performance - underlining their inherent lack of consistency and failing to secure a draw even, in a game that was no classic.
Reporter Noel Donaldson Wick Academy 2 Deveronvale 2 A LATE goal, ruled offside, prevented Academy taking all three points and hopefully sparking some home wins. Given the effort put in by the two sides, though, a draw was probably a fair result.