Under 15 County Badminton Championships
Submitted by Isobel Nicolson
1st December 2001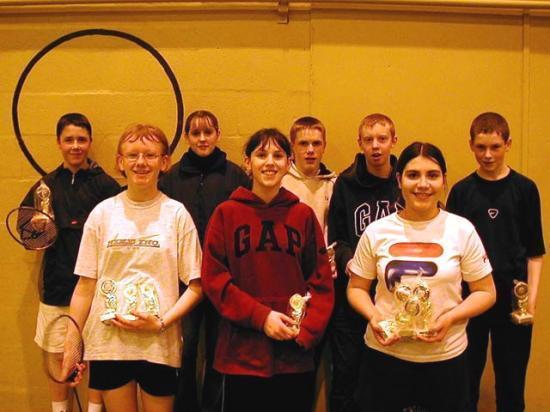 There was an entry of 20 boys and 10 girls from Thurso, Wick, Dunnet, Castletown & Lybster. There were a lot of exciting matches with long rallies and a high standard of play and sportsmanship on and off court.

Stephen Hill from Wick made a clean sweep in lifting all 3 boys section titles, Singles/Doubles and mixed doubles although he was pushed all the way by Craig Gunn.

Kirsty Grant, Thurso dominated the girls section taking both singles and doubles.

Full results are as follows

Boys singles winner - Stephen Hill, Wick
R/up - Craig Gunn - Wick

Boys doubles winner - Stephen Hill/Andrew Falconer, Wick
R/up - Craig Gunn/Graeme Sinclair, Wick

Girls Singles winner- Kirsty Grant, Thurso
R/up - Lorraine Sinclair, Wick

Girls doubles winners- Kirsty Grant/Lindsay MacDonald, Thurso
R/up - Claire Manson/Lorraine Sinclair, Wick

Mixed Doubles winners - Stephen Hill/Lorraine Sinclair, Wick
R/up - Craig Gunn, wick/Jacquelyn Groat, Lybster

Related Sports
Related Articles
The names of Overall Club Championship Shield Winners are - Boys singles Kevin McGee Boys Doubles, Kevin & Derek Falconer Girls Singles Lorraine Sinclair Girls Doubles Lorraine & Aileen Allan Mixed Doubles, Kevin & Aileen.
As there was not a big entry all five categories Singles, Doubles and Mixed were played on a round robin basis. Steven Craigie, Wick took all 3 titles - boys singles, doubles and mixed Kirsty Grant, Thurso took 2 titles - girls singles and doubles.
There was an entry of 51 Boys and 10 Girls from Thurso, Dunnet, Wick, Lybster Clubs. Matches were keenly contested with several close games.