Rothes routed as Scorries scoop six
24th January 2016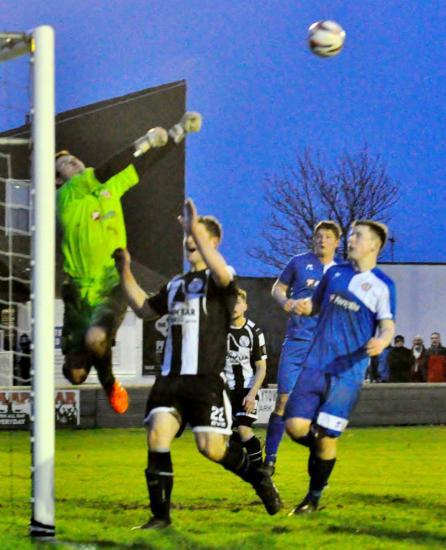 Wick Academy 6 Rothes 1
Reporter - Noel Donaldson

THIS was Academy at their creative best and while it is never wise to tempt fate in cup contests, the result must leave them with the confidence they can progress in this league tournament.

Rothes were powerless to counter the ever-increasing goal spate in the preliminary round, as Academys ruthless strike force ripped through their hapless defence, time and again.

Wicks early pressure did not pay dividends but it was not long before they converted their chances to goals, Gary Weir opening their account. Davie Allan made it 2-0 and Steven Anderson netted a third to put the Scorries in with a comfy cushion at the break.

The Rothes managers half-time team talk aimed at stopping the rot failed miserably as Weir bagged his second and Marc Macgregor and Richard Macadie put their long- suffering opposition out of their misery. Rothes managed to pull one back at the end, through Ricky Henderson, to avoid the whitewash tag.

Academy Supporters at the bottom end of Harmsworth Park were treated to a series of second-half corners and some nail-biting goalmouth drama.

Academy get down to the real business of the cup, the crucial clash following a long trip to play Cove, next month and that will be an acid test of their determination to see another trophy grace the boardroom sideboard.
Related Sports
Related Articles
Wick Academy 3 Clach 1 Reporter Noel Donaldson BOTH sides were clearly up for it in the first half but neither team was able to beat their respective defences and keepers who were very much on their game. While it made for an entertaining first half, supporters could have been forgiven for starting to fear things might play out for a goal-less draw..
Reporter Noel Donaldson Wick Academy 3 Keith 1 A SECOND, consecutive match hat-trick from Sam Mackay secured all three points for the Scorries and was a further step forward in recovering their home form. Keith were no pushovers, however, and stuck to their task right to the final whistle.
Wick Academy 0 Fraserburgh 1 Reporter Noel Donaldson ACADEMY supporters' hopes were doubtless high that the miracle mid-week comeback by their team against Forres Mechanics, would be the catalyst to getting to grips with their home results jinx. In the event, the encounter with a well-marshalled Broch outfit was something of an anti-climax, Academy unable to replicate anything close to that scintillating 5-3 performance - underlining their inherent lack of consistency and failing to secure a draw even, in a game that was no classic.
Reporter Noel Donaldson Wick Academy 2 Deveronvale 2 A LATE goal, ruled offside, prevented Academy taking all three points and hopefully sparking some home wins. Given the effort put in by the two sides, though, a draw was probably a fair result.
Wick Academy l Inverurie Locos 1 Reporter Noel Donaldson THIS certainly fell far short of Academy's best performance and Locos, on the other hand, will have rightfully felt cheated at not taking all three points, given the efforts they put in. Failure to capitalise on their equaliser during repeated onslaughts on the Scorries defence and some sharp keeping by Sean McCarthy denied the visitors the spoils.
Wick Academy 2 Turriff United 0 Reporter Noel Donaldson A FIRST-HALF brace gave Academy the perfect start to their title challenge. Stephen Anderson stunned the visitors in opening minutes with a well-placed header but despite pressing for their second, it didn't come until the dying seconds of the first period.
Wick Academy 2 Brora Rangers 2 Reporter Noel Donaldson THE Scorries reversed a two-goal deficit, to grab a share of the spoils in a gutsy second half comeback. Apart from displaying a never-say-die commitment, the draw demonstrated that Academy are closing the gap on their derby rivals, no small achievement when you consider Dudgeon Parks quality and expensive outfit.
Wick Academy 0 Formartine United 1 Reporter Noel Donaldson WICK will doubtless feel a draw would have been a fairer result given the work they put in to the 90 minutes. United on the other hand needed all three points to stay in contention with the title challengers and will have been relieved to have shaded it.
Wick Academy 4 Inverurie Locos 2 Reporter Noel Donaldson TIME was when Academy would have viewed an encounter with Locos with some trepidation...not any more. The Scorries had Inverurie on the run, but while the visitors were down at times, they demonstrated they were not out of the game and kept coming back in an entertaining ninety minutes for the fans.
Match Date 27th February 2016. Macadie makes the difference in late kick-off tussle.