Under 17 County Badminton Championships
Submitted by Isobel Nicolson
23rd January 2002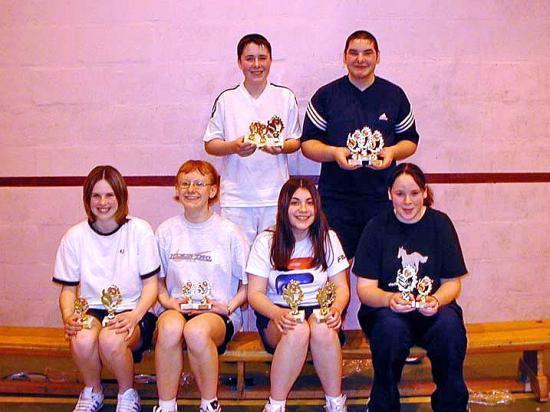 As there was not a big entry all five categories Singles, Doubles and Mixed were played on a round robin basis.

Steven Craigie, Wick took all 3 titles - boys singles, doubles and mixed

Kirsty Grant, Thurso took 2 titles - girls singles and doubles.

Steven took the singles title after beating team mate Stephen Hill 21-9

He then paired up with Stephen Hill to take the doubles. Craig Gunn and Graeme Sinclair (Wick) were runners up.

The mixed was the most keenly contested with Steven and club partner Aileen Allan coming from behind to take the title from Stepehn Hill and Lorraine Sinclair by 2 points.

Kirsty won all of her four singles matches to take the title with club mate Lynn Smith runner up and Wick's Lorraine Sinclair third.

Kirsty and Lynn then took the doubles title after defeating Lorraine and Aileen 2 games to 1.

Winners Photo:

Back row Stephen Hill and Steven Craigie

Front row Aileen Allan, Lorraine Sinclair, Kirsty Grant & Lynn Smith

Missing from the winners photo is the Boys doubles runners up Craig Gunn and Graeme Sinclair of Wick
Related Sports
Related Articles
The names of Overall Club Championship Shield Winners are - Boys singles Kevin McGee Boys Doubles, Kevin & Derek Falconer Girls Singles Lorraine Sinclair Girls Doubles Lorraine & Aileen Allan Mixed Doubles, Kevin & Aileen.
There was an entry of 20 boys and 10 girls from Thurso, Wick, Dunnet, Castletown & Lybster. There were a lot of exciting matches with long rallies and a high standard of play and sportsmanship on and off court.
There was an entry of 51 Boys and 10 Girls from Thurso, Dunnet, Wick, Lybster Clubs. Matches were keenly contested with several close games.