Wick Tora-Kai Karate Club Gradings.
13th September 2006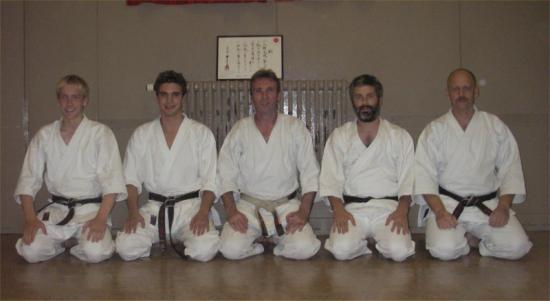 Some of the senior members of Caithness Tora-Kai karate club recently attended the International Traditional Karate Federation summer course at Heriot Watt University in Edinburgh. This annual event has been attended by Caithness exponents for the past 20 years. The Japanese instructors present this year were Senseis Kawasoe, Tsuyama and Naito teaching all aspects of karate during the 4 day course.

On saturday 23rd August a grading was held where course members could progress through the Dan ranking system. Local men Bob Silverwood and Sandy Wilson successfully passed their 2nd (nidan) Dan test. Club instructor Michael Tait passed the examination for 4th (yondan) Dan, in which he had to fight English, Irish, Latvian and Maltese opponents.

Pictured are Michael Bob and Sandy along with David Nicol and Rob Silverwood who passed their 2nd Dan grading in Barrhead, Paisley in March this year.
Related Sports
Related Articles
Highlights of the recent Wick Tora Kai Kata & Kumite Competition. The club will be celebrating it's 30 year anniversary next year..
On Saturday 6th April 2013, Karate students from across the County took part in the clubs annual Kata & Kumite Competition in Wick Assembly Rooms. Competitors ranged in ages and grades from 6 year old beginners to adult brown and black belts.
Kick start your New Year with a fitness programme with a difference. Wick Tora-Kai Karate Club is now running Beginners Classes for all ages 12 and upwards every Monday night at 7.00 pm in the Assembly Rooms.
Pictured with John Hilton (2nd right) are Mike Ritchie (2nd left), Mike's son Michael & his daughter Kimberley. This family trio have all achieved the grade of 2nd Dan black belt in Shotokan karate.