Caithness Crews Heads For The Scottish Tarmac Championship Round 3
1st June 2008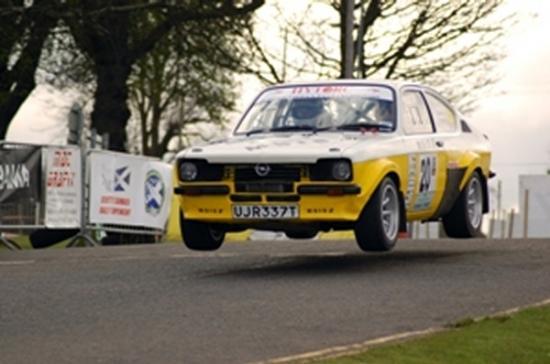 The second World War airfield at Crail, Astruther, Fife will host the third round of the Scottish Tarmac Championship on 14th and 15th June. Unusually this single venue event is being held over two days, comprising of 8 stages on the Saturday followed by 8 on the Sunday totalling 96 competitive mile made up of 85% tarmac 10% loose and 5% gravel. The event has attracted teams from all over Scotland and England, comprising of World Rally Car machinery, group N and clubman spec cars. Five Caithness Car Club Crews will be travelling the 260 miles down to compete in this eagerly awaited event.

Highland Waste Services has entered 3 cars run by MacKay Motorsport, comprising of a Mitsubishi Evo 6, Group N driven by Allan MacKay and two Peugeot 106's driven by his two sons Euan and Gordon. Allan has had success and disappointment at this demanding event, it was four years ago whilst competing in a Cosworth Escort he clipped a tyre at high speed which barrelled rolled the car, flipping it in mid air before coming to rest on its roof. Allan was taken to hospital as a precaution. He bounced back and earlier this year at this venue with this Evo 6 Group N, which is basically a road going car with a few tweaks, took sixth overall, beating some very exotic WRC cars. He is being navigated round these stages by M O Downey, a highly respected Irish navigator.

The first of the Peugeot 106's will be driven by Euan MacKay and navigated by Michelle Falconer, having built this car from scratch earlier this year, he will be hoping that the run of bad luck that has plagued him has ended. Earlier this year at the whilst lying 20th overall and in full attack mode, a fault with the ignition coils on the engine forced him to retire. Then a faulty gearbox end his rally prematurely at Ingilston. Gordon will be driving the second of the 106's, normally in the navigators seat of his father's car it should be interesting to see how he adapts to the drivers seat and brotherly rivalry. He is being supported in the navigators seat by Kier Beaton. Mark Alexander is competing in the DR Alexander & Son trailers Mitsubishi Evo 4, having just undergone a complete overhaul to convert it from forest to tarmac spec, including new Proflex suspension and larger turbo.

Unfortunately this has limited the time to test and set up and only having competed here once before 10 years ago, it will be entertaining to see him get to grips with the car and give his usual 110% The very experienced Andrew Falconer will be guiding Mark throughout the rally. The father and son pairing. of Billy and Kevin Hamilton will once again be out in there MSIS Opel Kadett, this will be their second event this year having come 19th overall at Ingilston last month.

Crail does not have good memories for the pair as it was at this venue that they had a major accident 3 years ago requiring the rebuild of MSIS Kadett. The pair have dialled in a few suspension changes since Ingleston which should improve the handling. They will be aiming to finish the rally and beat their seeding. Results and information can be found at www.strc.co.uk

Photo - AML Photography
Related Sports
Related Articles
The 5th round of the Scottish Tarmac Championship was held on the 15th June at the old wartime airfield of Crail in Fife. This was a single stage venue rally consisting of 6 stages of 8.5 miles long on mainly tarmac perimeter roads.
Billy Hamilton and Suzanne Hossack contested the DCC Ingliston Single Stage Tarmac Rally last weekend in the MSIS Opel Kadett. They travelled down the 250 mile journey with their service crew consisting of Kevin Hamilton, Jackie McNeill, Davie Chisholm and June McNeill on Catering.
Aberdeen Motor Club held a 54 mile, 10 stage Scottish tarmac championship rally at RAF Edzell on Sunday 21st October. Two Caithness Car Club crews travelled down the 250 miles to compete..